Angel Inn
95 High Street, Andover, Hampshire, SP10 1ND
- 18.7 miles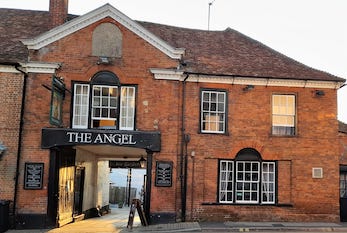 Contact: 01264 357467
---
Saturday 13 August 2022 -- DELETED
Venue: Angel Inn
Address: 95 High Street, Andover, Hampshire, SP10 1ND
Telephone: 01264 357467
Event: Common Ground Duo - 8.30pm-10.30pm

-

Common Ground Duo on Facebook: www.facebook.com/CommonGroundDuoUK. Duo performing popular hit songs from the past 4 decades Common Ground Duo comprises of best friends James Mitchell & Kayleigh Burton. Performing some of the most popular hit songs from the past 4 decades, (CGD) have been entertaining audiences all around the south of the UK for over 12 years. Now with over 300 shows under their belt their voices and vocal harmonies have become perfectly matched and critically acclaimed. The high energy, fun filled performance you will see is testament to a long successful working relationship. There may even be some playful banter thrown in too!

---
Please note: As per our terms of use, the events listed are not in our control, so they could be changed. Also, some venues may charge an entrance fee to certain music events. In either case, we recommend that you contact the venues before making your arrangements.