Barford Inn
Barford St Martin, Salisbury, Wiltshire, SP3 4AB
- 6 miles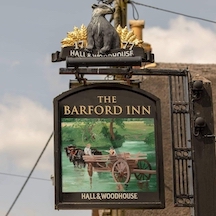 Contact: 01722 742242
▼ Gig History
Select year:
2018
2019
2020
2021
2022

Sat 12 Mar 22 - 8pm - Barford Inn - An Evening of Irish Music with Tairní Mara


Sat 23 Apr 22 - 9pm - Barford Inn - Raizing Steam

---
Saturday 25 June 2022
Venue: Barford Inn
Address: Barford St Martin, Salisbury, Wiltshire, SP3 4AB
Telephone: 01722 742242
Event: Break Cover - Break Cover's website: www.breakcoverband.com. Break Cover on Facebook: www.facebook.com/BreakCover. 60s to the present day pop and rock covers band Break Cover brings you classic rock covers from the 50s to the present day. With the addition of the fantastic Amber Coleman, these guys pride themselves on giving the audience a top notch, quality performance at 100% to get people up dancing and having a great time.

---
Please note: As per our terms of use, the events listed are not in our control, so they could be changed. Also, some venues may charge an entrance fee to certain music events. In either case, we recommend that you contact the venues before making your arrangements.