Clarendon Club
Nadder Road, Tidworth, Hampshire, SP9 7QA
- 16.6 miles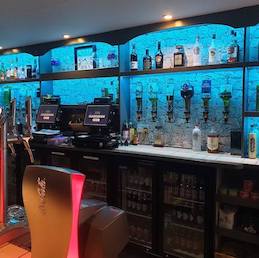 Contact: 01980 348577
---
Saturday 13 August 2022 -- DELETED
Venue: Clarendon Club
Address: Nadder Road, Tidworth, Hampshire, SP9 7QA
Telephone: 01980 348577
Event: Off The Cuff - 9pm

-

Off The Cuff's website: www.offthecuffband.co.uk. Off The Cuff on Facebook: www.facebook.com/offthecuffsalisbury. Funky pop and rock covers band playing hits from the 70s to the present Salisbury-based band playing a mix of funky pop and rock from the 70s to the present day. With the emphasis on music you can dance to, the band have been generating a lot of local interest with their high standard of musicianship and vocals which always leaves the audience wanting more.

---
Please note: As per our terms of use, the events listed are not in our control, so they could be changed. Also, some venues may charge an entrance fee to certain music events. In either case, we recommend that you contact the venues before making your arrangements.