Guy Halls: Nuevo Flamenco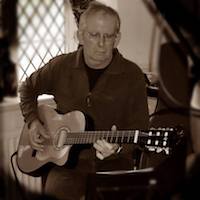 Event Details:
Date:

Friday 11 October 2019 -- EVENT HAS PASSED
Venue: White Horse map

Address: Lower Road, Quidhampton, Salisbury, Wiltshire, SP2 9AS

- 2.4 miles
Event: Guy Halls: Nuevo Flamenco
- 7.30pm
-
Professional guitarist combining Latin, pop, jazz and Nuevo Flamenco styles. Guy Halls on Facebook: www.facebook.com/GuyHalls.NuevoFlamenco. Guy Halls website: www.reverbnation.com/guyhalls. Guy Halls is a professional guitarist based in Salisbury. With over 30 years of experience of live performances, his repertoire combines Latin, Pop, Jazz and Nuevo Flamenco. Being a multi-instrumentalist, percussion, bass guitar and keyboards, he started producing home recordings of his original compositions.
Venue website:
quidhamptonwhitehorse.co.uk
Venue Facebook:
facebook.com/quidhamptonpub
Twitter:
@quidhamptonpub
View more information and other gigs for Guy Halls
---
Please note: As per our terms of use, the events listed are not in our control, so they could be changed. Also, some venues may charge an entrance fee to certain music events. In either case, we recommend that you contact the venues before making your arrangements.
Guest | Login