D'Ska Assassins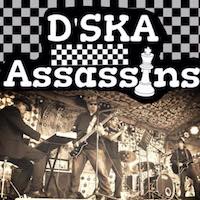 Event Details:
Date:

Friday 06 September 2019 -- EVENT HAS PASSED
Venue: Qudos map

Address: 38 Castle Street, Salisbury, Wiltshire, SP1 1BN

- under ½ mile
Event: D'Ska Assassins
- 9.30-11.30pm
- Free entry
-
Two Tone covers and originals Ska band. D'Ska Assassins on Facebook: www.facebook.com/dskaassassins. D'Ska Assassins website: www.reverbnation.com/dskaassassins. Ska music for all you SKA fans! High-energy up-tempo Ska band, covering a classic blend of Two Tone hits, including a few D'SKA infectious original tunes.
Venue website:
qudossalisbury.co.uk
Venue Facebook:
facebook.com/QudosSalisbury
Twitter:
@Qudos_MusicBar
View more information and other gigs for D'Ska Assassins
---
Please note: As per our terms of use, the events listed are not in our control, so they could be changed. Also, some venues may charge an entrance fee to certain music events. In either case, we recommend that you contact the venues before making your arrangements.
Guest | Login