Matt Black
Solo musician covering a variety of styles
Website:
matt-black.org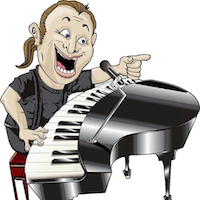 Matt is a musician, comedian, recording engineer and record producer. In the 20+ years that Matt has been earning a living in the entertainment world, he has consistently altered his stage persona to meet the requirements of his audience, be they guests at a society wedding, delegates at a business conference or corporate dinner, or bikers attending a rally. Whether it's one of Matt's comedy nights where he will have the audience roaring with laughter, or a rather more refined Matt which fits perfectly in a restaurant, wine bar or wedding environment, his musical repertoire from classical or jazz to modern day will amaze.
---
No forthcoming events to display.
Although we don't have anything listed, it could just be that we haven't been informed of planned events, so
please visit the website or Facebook page for Matt Black to check for forthcoming events:
Website:
matt-black.org
Facebook:
www.facebook.com/Matt.Black.Pianoman
If you know of an event coming up for Matt Black that we can list on the guide, please let us know.
---
Please note: As per our terms of use, the events listed are not in our control, so they could be changed. Also, some venues may charge an entrance fee to certain music events. In either case, we recommend that you contact the venues before making your arrangements.