Sarum's Lot
Rock covers band from 1960s to present day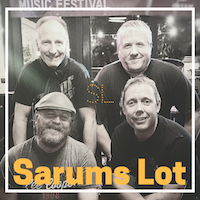 Event Details:
Date:
Saturday 20 April 2019
Venue:
Qudos
map
Address:
38 Castle Street, Salisbury, Wiltshire, SP1 1BN
Event:
Sarum's Lot
- 9.30-11pm - Free entry - Sarum's Lot website:
www.sarumslot.co.uk
. Sarum's Lot on Facebook:
www.facebook.com/sarums.lot
. Rock covers band from 1960s to present day. Sarum's Lot, originally "From The Ashes", were formed in 2011. From Metallica to Blur, Led Zepplin to Arctic Monkeys, AC/DC to Kings of Leon, Black Sabbath to Lenny Kravitz, Sarum's Lot play a great selection of songs from the 60s to the present day.
Venue website:
www.qudossalisbury.co.uk
Venue Facebook:
www.facebook.com/QudosSalisbury
Twitter:
@Qudos_MusicBar

View more information and other gigs for Sarum's Lot
---
Please note: As per our terms of use, the events listed are not in our control, so they could be changed. Also, some venues may charge an entrance fee to certain music events. In either case, we recommend that you contact the venues before making your arrangements.
Logged in: Guest | Login